December 21, 2018
Suzlon Foundation organizes Health camps in remote villages in Rajasthan
Jaisalmer, India: Moving forward in its endeavor to take the message of good health and create a healthy rural India, Suzlon Foundation recently organized a series of Health camps in 58 villages around Jaisalmer in Rajasthan. The Health camps benefited over 700 residents of the villages and included check-ups for early diagnosis as well as treatment of medical conditions which would in turn ensure long term health for the people of these villages.
The Health camps included basic laboratory tests and community awareness sessions on chronic diseases like Diabetes. Fourteen patients were referred to higher centers for further investigation and treatment.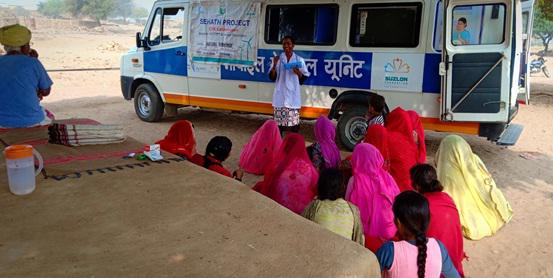 Since Jaisalmer is a desert district where the population is widely scattered access to health care services is a big challenge. Due to lack of awareness on health issues and welfare services, rural folks in Jaisalmer tend to fall ill more frequently and wait too long before seeking medical help. In March 2014, Suzlon Foundation initiated the SEHATH mobile health care service in partnership with Hindustan Latex Family Planning Trust (HLFPPT) with an aim to improve health status of the communities. The mobile health clinic van moves between two to four villages every day and works 6 days a week. Since, prevention is a focus in this project awareness sessions for prevention and early detection of diseases is held alongside the clinical care.
Dr. Jasmine Sofia Gogia, Senior General Manager, Suzlon Foundation said, "Suzlon Foundation endeavors to achieve social, economic and ecological development around all its areas of operations. Our CSR programs are specifically designed to the requirements of local communities, since there is lack of proper health care in the villages, we conducted the health camps to educate the people in good health practices and also provide preventive health services. A healthy community will be a prosperous community."
About Suzlon Group:
Suzlon Group is one of the leading renewable energy solutions provider in the world with an international presence across 18 countries in Asia, Australia, Europe, Africa and the Americas. Headquartered at Suzlon One Earth in Pune, India; the Group is comprised of Suzlon Energy Limited (NSE & BSE: SUZLON) and its subsidiaries. A vertically integrated organization, with over two decades of operational track record, the Group has a cumulative installation of over 18 GW of wind energy capacity, over 7,500 employees with diverse nationalities and world-class manufacturing facilities. Suzlon is the only Indian wind energy company with a large in-house Research and Development (R&D) set-up in Germany, the Netherlands, Denmark and India. Over 12 GW of the Group's installations are in India, accounting to ~35% of the country's wind installations, thus making Suzlon the largest player in this sector. The Group is the custodian of over 12 GW of wind assets under service in India making it the second largest Operations and Maintenance Company (over 8,000 turbines) in the Indian power sector. The Group also has around 4 GW of wind assets under service outside India.
Suzlon corporate website: www.suzlon.com