Quality Management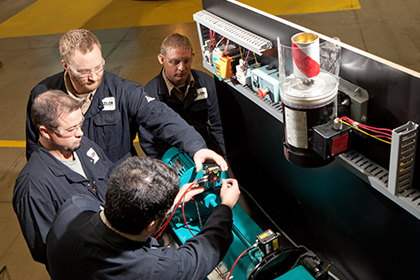 Suzlon is committed to ensuring that its products and services are the best-in-class worldwide. Towards furtherance of this endeavour, it has formulated a quality management strategy that encompasses initiatives like House of Quality and Quality Function Deployment (QFD), to name a few. Suzlon's quality management strategy seeks to embed quality and the pursuit of excellence into the DNA of the company.
This quality management strategy is a practical approach that is designed to provide customers with products and services which boast of the best quality standards. Quality management and streamlined processes continually strengthen the company's execution capability and enable it to deliver products that are reliable, robust and user-friendly. It also ensures customer-satisfaction and focuses on rapid reduction in life-cycle costs. All this is done without compromising on the promise of providing a greener tomorrow. Apart from providing renewable energy to society through its customers, Suzlon also takes efforts to reduce its own carbon footprint. Suzlon ensures that its manufacturing processes are designed for minimal carbon emission.
Suzlon is a leader in quality because it has been pro-active in taking steps to minimise deviations in quality. The roadmap for Suzlon's quality initiative is to achieve standards of quality that benchmark with the world's best and embed them at all levels of the company. To support this quality drive, environmental management is certified in accordance with the requirements of ISO 14001, health and safety management according to OHSAS 18001, and the quality management system in line with ISO 9001.