Operations & Maintenance Services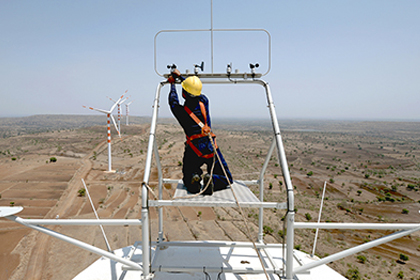 Since its inception, Suzlon has a clear focus on providing sustainable Operations and Maintenance Service (OMS) for the entire life cycle of each of its Wind Turbine Generators (WTGs). The guiding principle for this approach was to ensure the best Return on investment (ROI) for investors and not be limited to designing the best turbine or erecting the same on the best site. Suzlon is the custodian of its customer's assets for the entire project life-cycle and is committed to ensure the best service for them through its world-class OMS team.
Suzlon Global Operations and Maintenance Services (GOMS) team maintains a fleet of more than 10,020+ wind turbines across various countries in six continents. With rich experience of over two and half decades, Suzlon has scripted OMS best practices that enable it to operate WTGs across any climatic zone or condition: from 50 degree Celsius to -35 degree Celsius.
With Suzlon's operations and maintenance services (OMS), customers are ensured of turbine efficiency throughout its lifecycle. These services ensure that the profitability of the wind turbine is maintained consistently throughout the entire lifecycle of the project. Suzlon looks into all aspects of maintenance of the turbine through its proactive and reactive maintenance activities.