Group Profile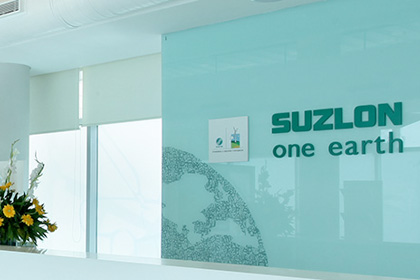 Suzlon Provides Renewable Energy Solutions Worldwide
Founded in 1995, Suzlon is one of the leading global renewable energy solution providers. Over the past two decades, Suzlon has installed over 20.1 GW of wind energy in 17 countries across six continents.
The Suzlon Group comprises of Suzlon Energy Limited and its various subsidiaries. The Group's vision for growth is driven by the concept of sustainable development. In recent years, Suzlon has developed strong competencies in solar power too and plans to offer Wind-Solar hybrid solutions. Its global wind installations alone help in reducing more than ~51.66 million tonnes of CO2 emissions every year.
The Suzlon Group's manufacturing footprint is spread across India and covers 14 facilities. Suzlon's success is due to its dynamic workforce of nearly 6,000 employees, who are respected and empowered as the Group's most valued asset.
In India, Suzlon is a market leader with 111+ wind farms and an installed capacity of over 14,160 MW. It has developed some of Asia's largest operational onshore wind farms in nine states including Gujarat, Rajasthan, Maharashtra and Tamil Nadu. The Group's diverse client portfolio includes power utilities and electricity producers in both the private and public sectors.
The Suzlon Group aims to make renewable energy both simple and cost effective for customers. In fact, Suzlon pioneered the Concept to Commissioning' model in wind energy, enabling it to meet the breadth and depth of customer requirements across the renewable energy value chain.
Concept to Commissioning Model
Cutting-edge Technology
Suzlon Group's investment in R&D and cutting-edge technology enables it to offer an extensive range of robust and reliable products which meet all customer requirements. For instance:
Suzlon's S144 -140m and S133-140m models are the all-steel lattice-tubular tower wind turbine and offer up to 160 meters hub height. It has been designed to harness wind energy across low wind sites.
Suzlon's both the models are one of the highest yielding wind turbines in its class; its lowest lifecycle cost helps drive down the energy price for customers.
Support Services
The Group also offers and executes best-in-class Operations, Maintenance and Services (OMS) across the globe. Apart from physical, on-ground service terms, Suzlon's SCADA system (Supervisory Control and Data Acquisition) enables remote monitoring of over 10,020 wind turbines worldwide, allowing the Group to manage uninterrupted operations and reliability of power generation.
Sustainable Development
The Group has taken innovative steps to stay competitive in a difficult economic environment and ensure further growth of the renewable energy sector. Besides being a technology leader, its CSR endeavours work to protect the environment, strengthen communities and propel responsible growth.
With 'Powering a Greener Tomorrow' as its vision, the Group has mandated Suzlon Foundation to ensure sustainability across all business operations. Suzlon Foundation is the medium through which the Suzlon group carries out its CSR initiatives.
One Earth, the Suzlon Group's headquarters in Pune, India is Platinum LEED certified and is one of the greenest corporate campuses in the world.