November 28, 2018
Suzlon Foundation furthers commitment to education through school renovation project in Tuticorin
Tuticorin, India: Suzlon Foundation, the CSR arm of the Suzlon Group today furthered its commitment to education by contributing for the renovation of the St. Antony R. C. Primary School in Vadakku Silukkampatty, Tuticorin District. The newly renovated school building was inaugurated in the presence of Mrs. E. Vasantha, District Educational Officer, Education Department, Tuticorin District, Mr. K. Baskaran, Block Education Officer and Mr. Michael Anthony, Headmaster.
The school building was very old with roofing in a very bad condition. Students suffered a lot without a proper class room. Renovation of the building helped the students and teachers to pursue their studies without any problems. The renovated structure has facilities to provide hurdle free education to the students with the building completely renovated with new brickwork, plastering, false ceiling, roof sheet, flooring and painting. Suzlon Foundation engaged with Gramodhaya NGO to carry out the renovation work at the school.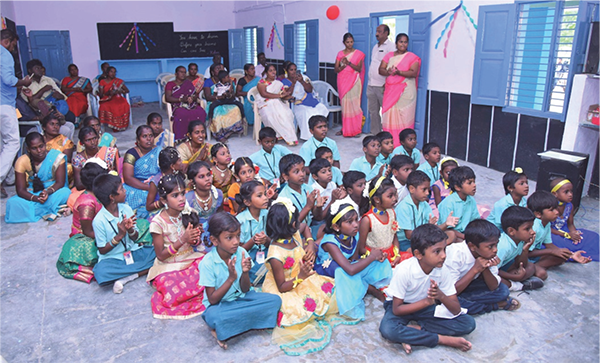 Students and parents of St. Antony R. C. Primary School at the event
Mrs. E. Vasantha, District Educational Officer, Education Development, Tuticorin district said, "Children are future of the country and it is important that they are provided an ideal school environment in which they can learn without any problems and difficulties. We are thankful to Suzlon Foundation for taking this development activity and renovating the school. I can see the students are all happy and eager to sit in newly renovated classrooms."
Dr. Jasmine Sofia Gogia, Senior General Manager, Suzlon Foundation said, "Suzlon Foundation endeavors to achieve social, economic and ecological development around all its areas of operations. Our CSR programs are specifically designed to the requirements of local communities and the renovation of the school is another step in that direction. We are glad to provide a conducive environment for the education of students and help them excel in their academics. We will continue to support many such initiatives which are sustainable and beneficial to the society at large."
About Suzlon Group:
Suzlon Group is one of the leading renewable energy solutions provider in the world with an international presence across 18 countries in Asia, Australia, Europe, Africa and the Americas. Headquartered at Suzlon One Earth in Pune, India; the Group is comprised of Suzlon Energy Limited (NSE & BSE: SUZLON) and its subsidiaries. A vertically integrated organization, with over two decades of operational track record, the Group has a cumulative installation of over 18 GW of wind energy capacity, over 7,500 employees with diverse nationalities and world-class manufacturing facilities. Suzlon is the only Indian wind energy company with a large in-house Research and Development (R&D) set-up in Germany, the Netherlands, Denmark and India. Over 12 GW of the Group's installations are in India, accounting to ~35% of the country's wind installations, thus making Suzlon the largest player in this sector. The Group is the custodian of over 12 GW of wind assets under service in India making it the second largest Operations and Maintenance Company (over 8,000 turbines) in the Indian power sector. The Group also has around 4 GW of wind assets under service outside India.
Suzlon corporate website: www.suzlon.com